Old but Gold! These are classics!
some articles are really like gold, we don't want to miss featuring them. Therefore we will include some of them in the section even if they were not written in the same period we publish.
Project Management Office: Is it a center of the Universe
I still remember when one of my former managers asked me if I see project management office as a central point of the company. Already at that time my answer was that PMO is one of central hubs in companies, where relevant project information should be available. This however is not the case in all companies, and it takes effort and time for the evolution of PMO to be a junction of project and portfolio decision making.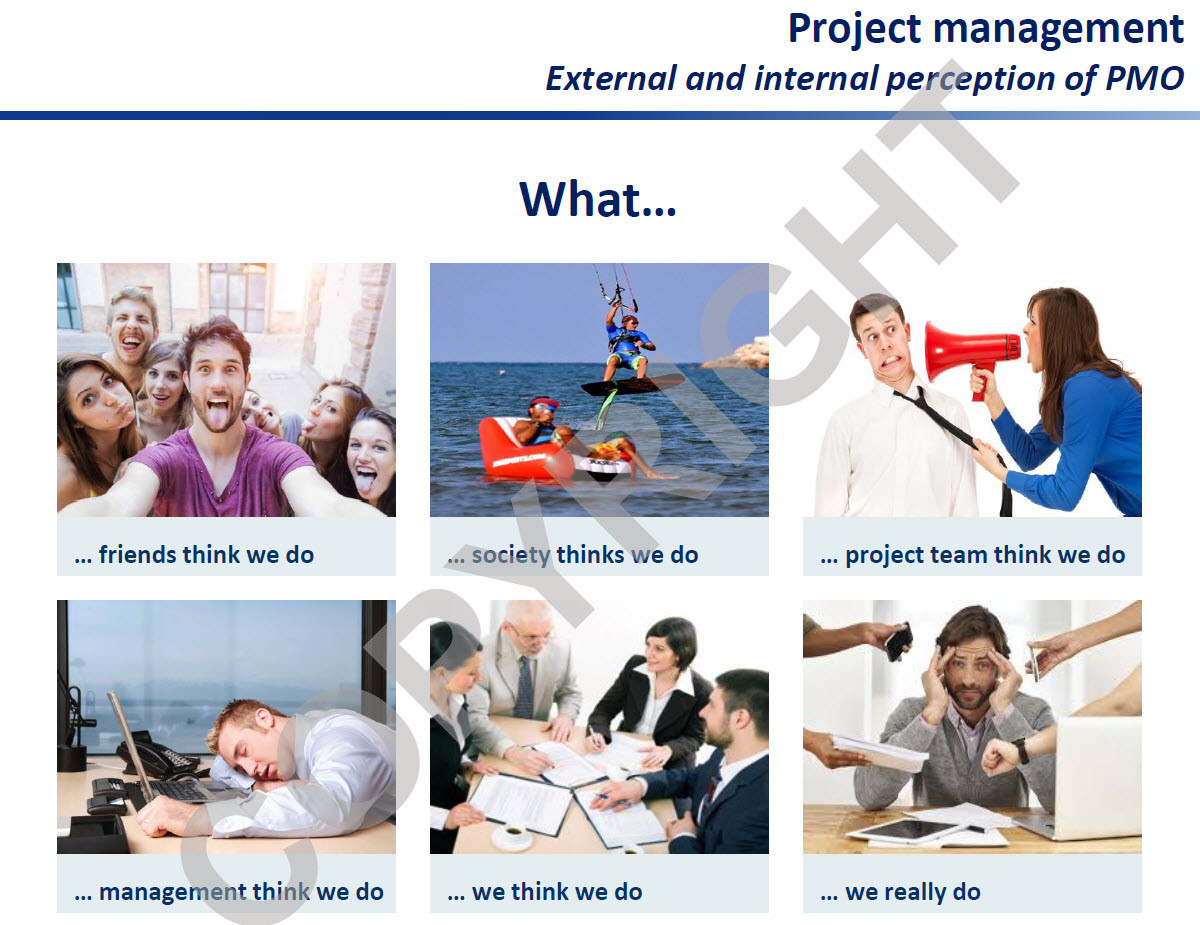 Project management is facing many times different external and internal perceptions. When it comes to friends many think PMs are only traveling, having fun and making selfies. Project teams mostly view PMs as the ones pushing for timelines and budgets. Management might think that due to delays and other challenges PMs are not on top of things. Lastly PMs perception of their work is organization of meetings in order to mitigate, discuss and align activities and priorities.
Project management is highly complex and can result in inefficiency of the company to deliver results on time and according to expectations of internal and external stakeholders. There are many pain points PMs and teams are facing. This are driving factors of possible success or failure of the entire project. Many companies do not address in a proper manner this pain points. Many do, however with different priorities. Some of main points:
project stage definitions not clear
too many projects running in same stage
portfolio strategy unclear
capacity of resources not known
priorities and changes of priorities not clear
x-functional cooperation and communication
external vs. internal projects
So one of main questions is, should organization really have Project management office - PMO? Based on some statistical data (Chaos report) only 44% of projects finish on time, most of them take twice as long and with double the budget as initially planned. Also one third of projects that are started are killed in their early life. PMO can help to improve the statistics just mentioned, as this should be an organized structure, that is providing processes, tools and people, in order to manage portfolio and projects x-departments and x-sites. It is responsible to deliver objectives that were set based on company strategy and vision. It should also be able to map out new models, scenarios and projects in very short period of time in order to allow quick decision making process of higher management on future company strategy.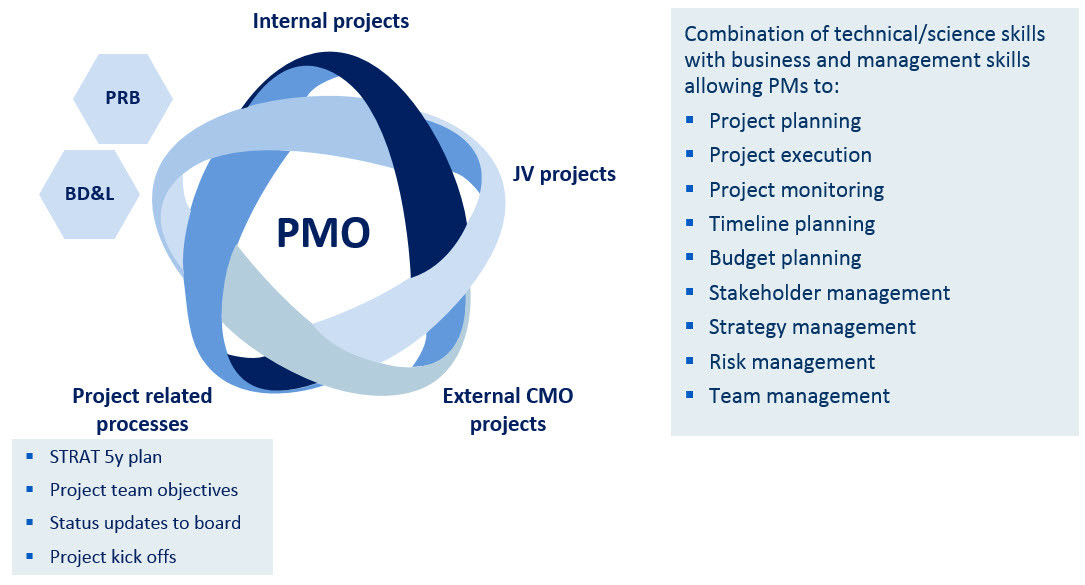 In order for PMO to be able of tackling high complexity and be involved in setting up corporate strategy, there are evolution steps. At the beginning teams might be facing only one project, very simple one and straight forward. This results in low complexity and therefore no processes are needed, and there are no priority challenges. The complexity grows with addition of projects and sites involved in it. I see 4 stages of PMO evolution. Second is where there are multiple projects, however only one PM available, with medium complexity and projects are run mostly in sequential way. Third stage is where this multiple projects have dedicated PMs and where projects activities are competing for resources on priorities. This is the start of PMO where implementation of processes is needed. Last stage, is where priorities and activities of different projects overlay each other. Projects are run in parallel. PMO is also involved in portfolio review process and defining strategy of organization. This is also stage where PMO can report directly to business unit head/company board/CEO. Stage four is also where responsibilities and empowerment of PMs are on the highest level. Combination of science, business, management and other soft skills is allowing PMs to lead project planning, project execution and monitoring, timeline and budget planning, risk management, stakeholder and team management and lastly and one of most important team management. Besides internal projects, PMO is the hub also for any joint venture projects and external projects. It's also in the lead of project related activities, like strategic planning, team objectives, status updates and project kick offs. It is also heavily cross linked to portfolio review and any BD&L activities company might have. This is especially crucial for project that might be in-licensed or out-licensed and for all due diligences where PMO is responsible to gather the team.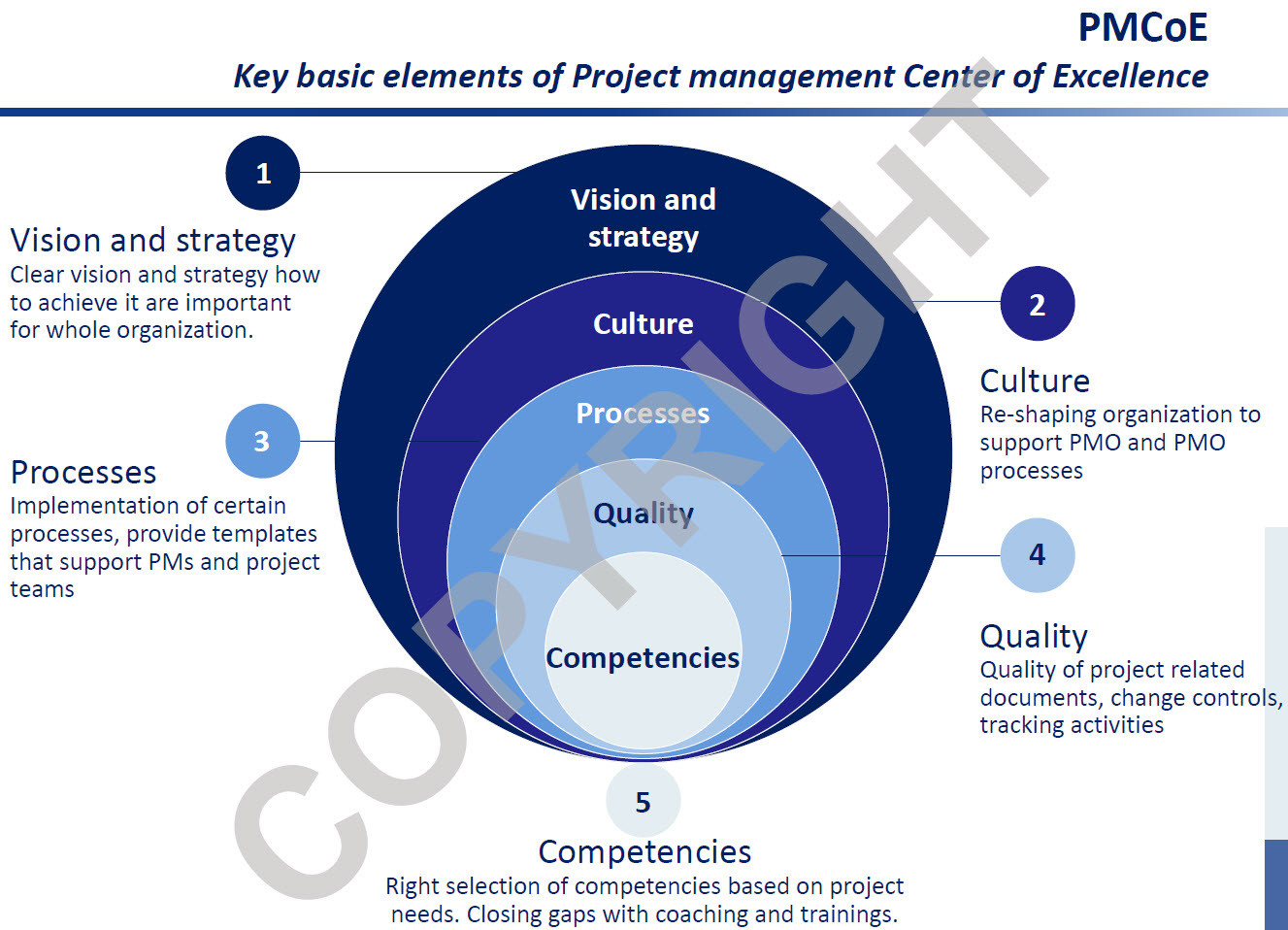 Many companies nowadays are also communicating implementation of Project management Center of Excellence - PMCoE. So what are basic blocks of PMCoE? First is vision and strategy. Clear vision and strategy are important in order to set the stage on priorities. How to achieve that is also important not only for project teams but for whole organization. Alignment of goals on strategic level is important of implementation of those in lower level of organization and channel to transmit this massage is PMO. Second block is culture. Support of PMO and PMO processes is crucial factor in success of the project. Re-shaping organization to support this needs a lot of energy and might require change of corporate culture in order to be more project focused. This can be achieved by implementation of team project objectives, assignment of people with right competencies for the project, identification of possible improvements via lessons learned. Next are processes. Many organizations are facing problem of frequent changes of processes or even lacking some of them. This is influencing project productivity. Consistent project management tools and processes are crucial for project teams. Quality control in project management is often missed. Tracking is mostly done on timelines and budget, however frequently missing change controls. Lastly selection of right people for right project with right competencies is base of roles PMCoE.

Why should organization develop PMCoE? To strengthen organization vision and strategy, to align different stakeholders, departments and sites to focus on common objectives. To decrease challenge of implementation of changes in portfolio and projects. It can help with right communication, management of people, change management tools, to swiftly change the project scope. Main office to oversee possible resource project allocations, and mitigate resources between sites and departments based on priorities. Facilitate communication between sites and departments, and strengthen position of project teams in organization.
As already mentioned project management is closely related to portfolio process. Portfolio review board or PRB, is in the lead of selection and screening of new candidates, approval of new candidates and also main body where priorities on already existing portfolio are made. This are made based on different criteria's, like market, timelines, opportunity, internal external, etc. Project PM and project team are in the lead of executing the project, managing timelines and budget. The process is "fluid" and there is always interconnection of PRB and project teams.
From portfolio part the market view is important in regards to costs, termination of projects and transfer of projects, and form the PjM side important parts are scope changes and decision gates transitions.
So how does the actual process in portfolio selection look like and where does the PMO fit in.
Ideas can be generated besides IP, competitive intelligence and marketing data also with the help of KOLs and other departments like R&D, clinical, IP, BD&L. This process can be driven ether by PfM or even PMO office. This creates opportunity map. Next step is evaluation of new ideas, that were already quickly prescreened. Based on decision criteria that are aligned with x-department team driven by PMO. Important that PM assesses high level budget, timelines, and with PfM assesses portfolio fit. Full business case preparation is needed for lead candidate, PM takes lead of feasibility development stages of the project. PM is responsible to report the progress of this projects and re-evaluate risk and timelines in order to fill the future pipeline. Full project proposal is needed after certain defined milestone is achieved in feasibility stage. Final decision should be proposal of GO no GO. Last decision is approval of full project and movement of project from feasibility stage to full blown project state, where PM takes full lead and is responsible of creating project team, before that he needs to drive with x-functional team, detailed budget plan, timelines, main milestones.
How to evaluate projects and set priorities? As one of most important aspects, selection criteria are basis for approval of new feasibility projects. There are many selection criteria that can be used for the evaluation of projects. Companies use different, also depending on their focus. The more criteria you have the more complex the selection becomes. During this exercise that should be interactive, many people from different departments should be present. Like R&D to asses timelines, risks and plans, finance to asses budget and possible NPV, portfolio manager to assess portfolio fit, IP to check when first possible LoE could be, what other obstacles there could be (very close link to R&D), and if there is a unique selling proposition. So bottom line evaluation is not one person job, should be a team effort, where PMO is also crucial in assessing possible time scenarios, priorities, development work clashing.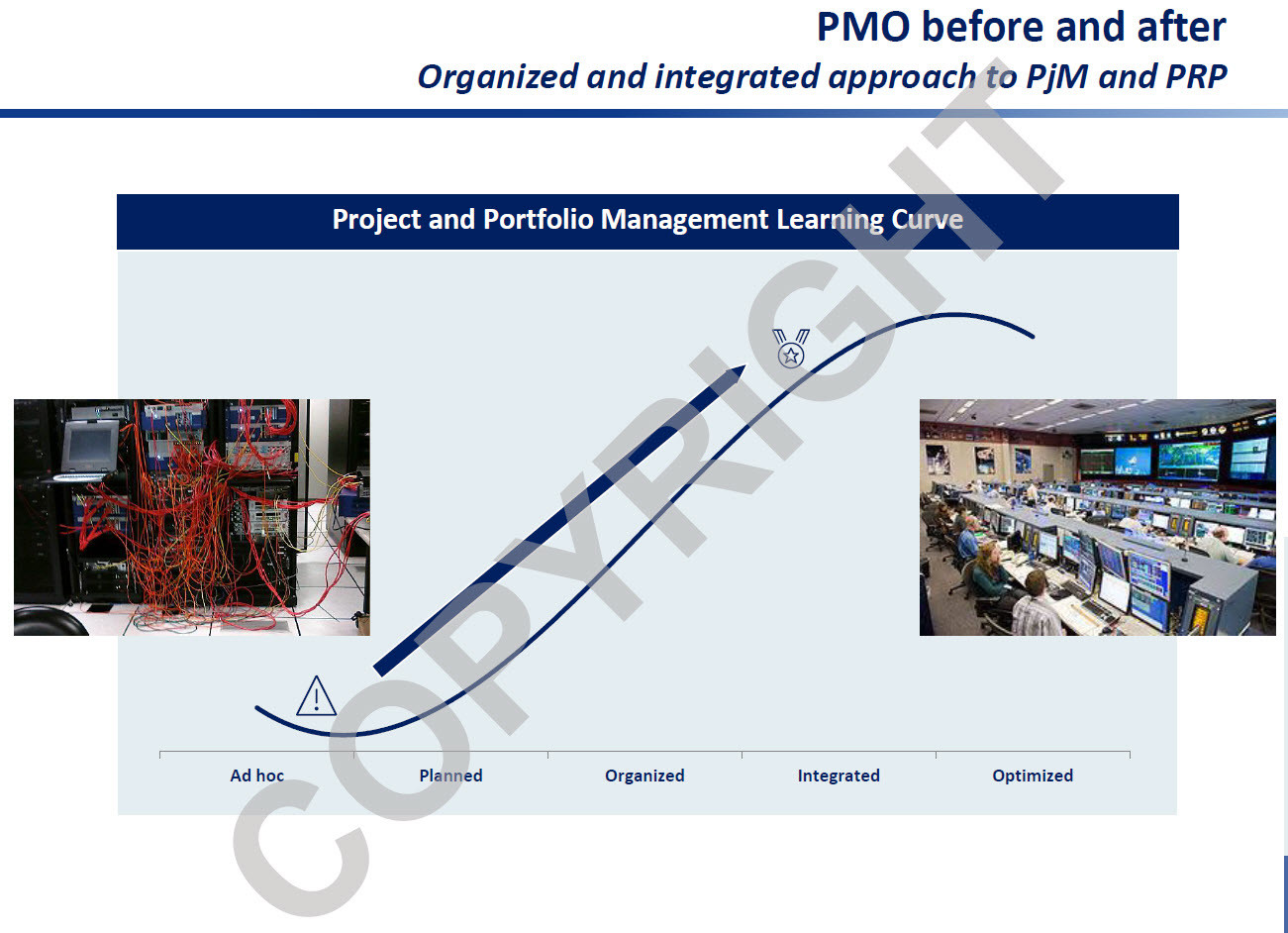 Coming to the end. The main goal of implementation of PMO and PMCoE is to bring organization from ad hoc and non-planned project decision making state, to full integration of PMO in organization, serving as mission control center for all projects.
---
Published at pmmagazine.net with the consent of Klemen Spaninger
Source of the article: {Linkedin} on [2017-09-29]