Exclusive! It's here were pmmagazine.net adds a little bit of flavor and touch to project management by having articles exclusively written for us based on each theme's edition.
IS LEADERSHIP THE DIFFERENTIATING FACTOR IN TIMES OF CRISIS?

Miracle on the Hudson
Imagine yourself on the flight of US Airways 1549, Airbus A320 that took off from New York City's LaGuardia Airport on January 15, 2009 and was forced to land in river Hudson as its engine developed a problem.
I would like you to describe your emotions in this situation: Confused, Panicked or Confident?
Unable to reach any airport, Pilots Chesley Sullenberger and Jeffrey Skiles glided the plane to a ditching in the Hudson River off Midtown Manhattan. All 155 people aboard were rescued with few serious injuries. The accident came to be known as the "Miracle on the Hudson", and was described as "the most successful ditching in aviation history".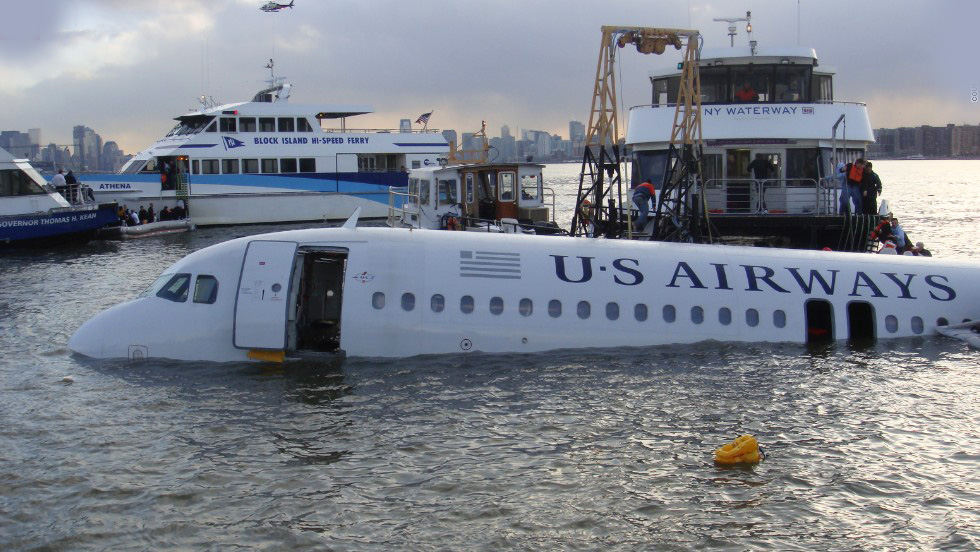 The pilots and flight attendants were awarded the Master's Medal of the Guild of Air Pilots and Air Navigators in recognition of their "heroic and unique aviation achievement".
Feelings after successfully getting out of this situation? Happy, Lucky or Grateful?
The emotions during and post crisis may differ but most of you will agree the fact that it is the Leadership at helm that is the differentiating factor to successfully overcome the situation.
Who is a Leader in Crisis situation?
A leader is "a person who influences a group of people towards the achievement of a goal". In situation of crisis, anyone who acts as a Leader, irrespective of his role, title or position in the hierarchy, is a Leader.
How Crisis situation differs?
A crisis, most of the times, is a chaotic situation and could become monstrous if not brought under control quickly. There could be irreversible damage to the environment you operate, customer dissatisfaction and physical or financial damages that could have cascading effects.
What is at Stake?
It can result in loss of time, cost overruns, morale of team adversely affected and loss of property, potential business and brand image. Often, Organizational reputation is also at risk and in situations there could be threat to life of people in case of natural calamities or accidents.
The media also may troll you and can launch personal attacks and law suits filed against you or your Organization, your employees and Customers being lured by your rivals could be normal.
Crisis could be an opportunity?
For an Organization, crisis provides an opportunity to showcase its real strength and capabilities.
Leadership in action during situation of adversity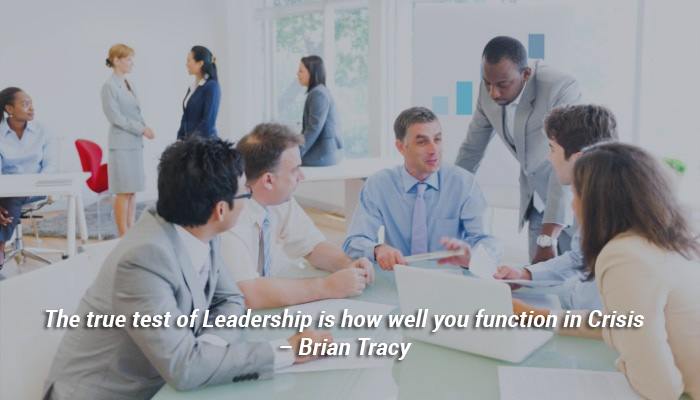 Organizational response during adversity could be result of many factors like what's at Stake? What are the priorities? Availability of resources etc. While one can get hounded by numerous suggestions, what and how it should be done here are few things that are non- negotiable.

Control the environment
Human beings are playgrounds of emotions and may react differently in challenging situations. They could either become silent or vocal. There will be chances of informal groups being formed and could follow different channels of communication. Corporate grapevine and rumor mill could result in false information getting spread outside of Organization.
The Middle level Managers may get disconnected from the real focus could be either timid or can act crazily in excitement. Hence it is important to have rules, structures and processes in place to control the environment.
Manage expectations
The demand from Stakeholders during this period could be overwhelming and could be based on the information and perception they are having about your Organization. Suppliers could be following for money or could ask for advances, Customers could be insisting for deliveries and financial institutions could chase you for recovery.
It is always advisable to set real expectations with Stakeholders by taking them in confidence and apprising them of the ground level situation. The interactions and communications should be ideally on case to case basis depending on the exposures.
Keep it going
Restoring everything back to normalcy is and should be the ideal situation, getting back on your feet and keeping it going should be the top priority. While the crisis management team is doing the firefighting, the people who are not affected can focus on their day to day activities. This will have positive impact on Organizational morale and perception of Stakeholders and Media.
Leverage your resources, Ask for help
Dismantling your hierarchy during times of crisis is a good option. You can ask resources from other departments to help their colleagues as they bring fresh energy and perspectives.
Reach out to Employees, Stakeholders and Authorities, if needed.
Understand root cause and fix it
It obvious for an Organization to get the issue addressed and restores the operations in the quickest possible time. In most of the cases, the focus is more on analyzing past trends rather than exploring other possibilities. While there are technical reasons for a crisis but a majority of percentage are attributed to people, process and culture. An outsider view with out of box thinking can prove beneficial to analyze and troubleshoot an issue.
Once the issue is resolved it should be reviewed quickly and, if required, redesign and communicate processes and organizational culture.
Public Relations and restoring image
Media, Stakeholders and even Employees could be harsh during crisis and it is normal reaction to avoid them if you are still negotiating the situation. This could have adverse impact and hence the best strategy is to have real time communication with Employees, Stakeholders, Authorities, Interested parties and media in particular. This can reduce false rumors getting spread outside.
Restoring product, brand and Organizational image should be the priority.
Have empathy with people
Going through a crisis phase can be stressful for many and is often a traumatic experience and their memories are clouded with emotions. Post crisis, people are gripped by fear, anxiety, guilt and uncertainty. Recovering from crisis situation is most delicate period and employees have to be counseled and dealt with empathy.
Post Crisis review and actions: Seize the opportunity to push reforms agenda
Learning from crisis is much tougher than it seems and the Leaders have to create an atmosphere that should focus to create learnings from the event and make strategic decisions.
Great Leaders see a crisis as an opportunity to look beyond and transform the organization with their inspiring vision and directing the Organization. They focus on improving capabilities and create an atmosphere of creativity and innovation through restructuring and reforms.
How Lufthansa did it? Jürgen Weber Leadership
Jürgen Weber was Chairman and CEO of Lufthansa, a German airline, from 1991 till 2003. During his tenure he faced many tough situations but his charismatic leadership transformed Lufthansa to a world aviation leader.
Renowned for always exercising foresight, Weber initiated many projects that included "Programme 93" and created in-house structural plan to revive fortunes of the company. As a part of this initiative, Lufthansa grounded many aircrafts, reduced jobs at administrative level, slashed budgets and focused on Sales. Lufthansa's earnings were boosted by DM 700 million in year 1993 as result of this initiative.
Visualize a crisis situation in your Organization and answer the following. Will you:-
React orRespond?
Lead orManage?
How do youcommunicate?
Do you compromise on our Values and Ethics?
What are your Priorities?
Do you go for a Quick fix or addressthe issue?
What you dopost crisis situation?
References
https://en.wikipedia.org/wiki/US_Airways_Flight_1549
https://www.referenceforbusiness.com/biography/S-Z/Weber-J-rgen-1941.html
http://www.vtaide.com/gleanings/leader.html
https://hbr.org/2017/11/leading-not-managing-in-risis?referral=03758&cm_vc=rr_item_page.top_right
Image credits
https://salesdrive.info/7-daily-habits-of-highly-effective-sales-managers/
https://edition.cnn.com/2014/01/15/tech/gallery/hudson-plane-landing-2009-ireport/index.html
https://www.manager-magazin.de/fotostrecke/lufthansa-die-gegner-von-lufthansa-chef-carsten-spohr-fotostrecke-131689-5.html
---
Published at pmmagazine.net with the consent of Yateen Sagdeo