Exclusive! It's here were pmmagazine.net adds a little bit of flavor and touch to project management by having articles exclusively written for us based on each theme's edition.
Reduce Your Project Surprises
This article is dedicated to my guru Late Mrs. Rita Mulcahy, founder of RMC Project Management.
Let's consider a situation from a city in India, Bangalore; the city where I live today.
A "Business meeting with my customer" - critical to close a business deal!
In today's digital world it's not difficult to estimate the time taken to a destination using a mobile app. These apps provide estimated time of arrival (ETA) and are primarily based on speed limits or actual travel time by previous users. In addition, they also consider recommended speeds, likely speeds derived from road conditions, historical average speed data over certain time periods, real-time traffic information and few other such parameters. These app then mix these data from various sources they have and come up with the best ETA.
Great, we now have an estimate that could be relied upon!
All good so far!
How about considering these?
What if I do not leave for the meeting as scheduled?
What if it rains and traffic condition become bad?
What if a procession happens to pass suddenly in my route?
What if a VVIP's vehicle is scheduled to coincide with my travel?
What if an unfortunate accident jams the traffic?
What if I suddenly fall sick?
What if the appointment is rescheduled to another time during the day?
What if the appointment is cancelled?
What if the app navigator fails to work?
What if my mobile battery gets drained?
What if GPS does not work?
What if I exhaust my data limit?
What if the driver suddenly decides not to drive me to my destination?
What if I pick up a fight with someone during the travel?
What if there is a medical emergency and needs my immediate attention?
What if the customer changes the location of meeting to my office?
What if the customer calls and informs that my company has already been shortlisted and now the meeting needs to include different stakeholders at a different date, time and location?
All of the listed above are uncertain events or conditions that, if it occurs, may have a positive or negative effect on a project's objectives; "Business meeting with my customer".
In the project management terms these are called Risk!
The last two listed above may have a positive effect on the project, meaning it does have an effect on the project objective such as meeting does not happen as planned but the has a positive effect of no travel or getting closer to the deal respectively.
If my situation of "Business meeting with my customer" could have so many uncertain events or conditions that could impact my objective, imagine our real-world projects! How many of such could play a spoil sport to achieve the project objective (typically Time, Cost, Scope and Quality).
Even if the chances of such an event or condition occurring is 1%, it qualifies to be identified as a Risk to the project. The key to project success is to identify as many Risks as possible and plan a response for the ones that are critical. If the chances of such an event or condition occurring is 100%, it is no longer is a Risk and becomes a fact (or constraint).
During one of my project consulting assignments in construction industry, I asked the team of any Risks they have identified. The team were used to their conventional style and felt nothing could go wrong and even if it did, the team was confident to controlling it! In spite of they not participating, I started identifying the risks at the work package level and approached them for a response. Few of the Risks that were identified and their corresponding response plan are listed below;
Accept the Risk

Entrance Arch Construction - A government road-widening project was pending for several years and was not expected to be approved before the project completion. Due a change in a government policy, suddenly this got approved. It meant; the customer would lose some piece of land facing this road. It was agreed during planning that we would construct the entrance arch as the last work package in project. And in such an event, the entrance arch would be demolished, if already constructed. Thankfully, the entrance arch was not constructed by the time the order was released.

Mitigate the Risk

Project Communication -Personal mobile phones were used for inter project communication and vendor communication by the site staff. Several instances of late communication due to lack of funds in their prepaid plans were reported and it started impacting the project. A corporate postpaid plan was evaluated and distributed to the site supervisors and other key members of the project.

Transfer the Risk

Construction of the overhead water tank- The organization had difficulty in engaging daily-contract-labor and did not have the required special skills to construct. It was planned to sub contract this work package for a Fixed Price to a vendor who specialized in such constructions.
Approval letter from the forest department to cut four treesthat was obstructing the main entry to the property. Transferred this Risk to the customer early in the project. Without my knowledge the customer smartly passed this responsibility back us (an agreement between the business owners). We had made it clear to the team members that nobody cut the tree without permission letter on hand. However, at some point due to the delay, one of the project team members got frustrated and attempted to cut the tree without the permission letter. That's it, the cops appeared from nowhere and arrested the team member and put him behind the bars. Thankfully, since the tree was not cut, with great difficulty we were able to get him released. We ended up paying a hefty fine that the customer declined to pay stating it was our responsibility. A hit on our cost budget and impacted our project Cost objectives.

Avoid the Risk

Avoid cementing process during heavy rains– During the execution, the team referred to the metrological department's 5-day prediction and re-scheduled the activity.
An illustration of an outcome of the Risk management process (taken during the Bangalore Metro Rail construction project). Not every Risk needs a response! Some may result in addition to the existing Work Breakdown Structure (WBS). This Risk management processes helps reduce the project surprises by plugging them into the design itself.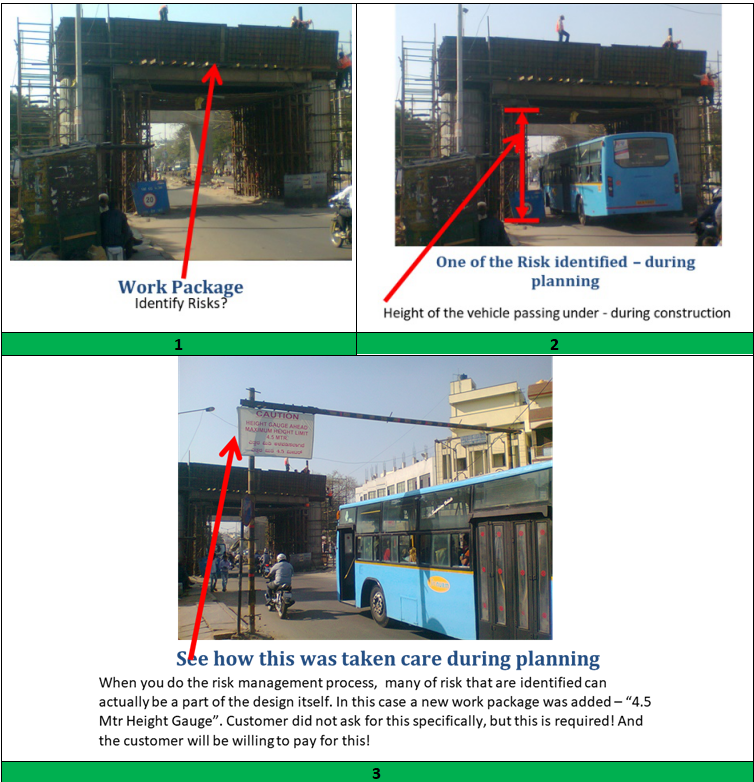 "Whether your project outcome is a service or a product or mix of both. The fundamentals of Risk management process remain the same."
Here are some pointers from my experience that could help during the Risk management process:
Risk is not a rocket science, it's just common sense.
Risk process (identification and response) is an art. Ensure you have creative people to identify Risks and plan for Risk responses. Avoid taking only senior members for these two processes. In my experience, young team members have identified more Risks and came up with creative responses as well.
Break down the project to the work package level, small enough to be able to manage well. Identify Risks at this level!
Do it with the team and encourage team interaction. Avoid doing these processes in isolation.
Not all Risks would need a response plan as they are time consuming. Prioritize the Risks using qualitative and quantitative analysis. Both are subjective methods. However, my experience with a qualitative analysis has been good. I seldom had a need to a perform quantitative Risk analysis in the kind of projects that I managed.
In most cases, either a new work package was added or a new activity was added to the project plan (refer to illustrations in the pictures above). Many did have an impact on the time/cost/scope/quality plans as well.
Don't run behind templates! Keep it simple, make your own template for capturing the identified Risks their response along with a Risk response owner. Make sure to track them throughout the project.
Risk management helps in reducing project surprises; hence helps in better control of the project.
Prepare of list of potential categories that are applicable to your project, internal environment and external environment. During a discussion with my student from an IT industry, he mentioned his cost budged increased due to a HR policy that mandated all women employees to be provided with a security personnel and a cab, if they are working late in the office. A potential Risk category "Organizations Policies" impacted the project cost objectives.
Once your work package level Risks have been identified, refer to the potential Risk categories list and identify more Risks. Stop identifying until it starts getting silly "what if earth falls from of its orbit?".
Ignore the Risks that does not impact project objective (typically Time, Cost, Scopeand Quality).
Risk management process is time consuming, get a buy in from the sponsor and other key stakeholders.
---
Published at pmmagazine.net with the consent of Raghuraman Kadambi