Exclusive! It's here were pmmagazine.net adds a little bit of flavor and touch to project management by having articles exclusively written for us based on each theme's edition.
Information or data? How to effectively benefit from Lessons learned?
Information or data? How to effectively benefit from Lessons learned?
Lessons learned as defined by different international organizations:
PMI PMBOK guide 6th edition 1: the knowledge gained during a project which shows how project events were addressed or should be addressed in the future for the purpose of improving performances.
GPM reference guide 2nd edition 2: historical records from previous projects, especially similar projects, and can be an excellent source of ideas about future events that could affect this project.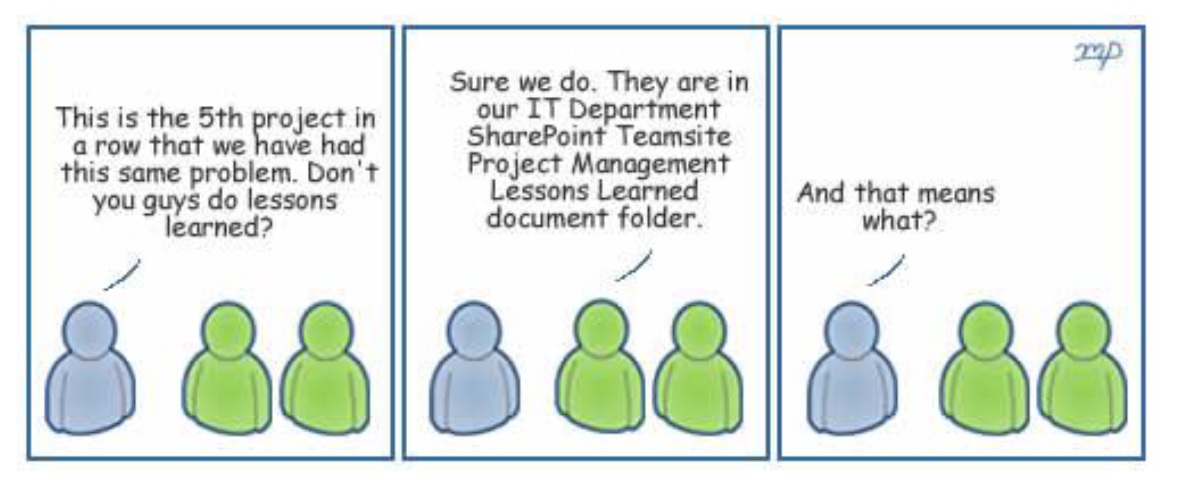 First of all, before exploring the process and keys to generate lessons learned, the organization's culture is the most important factor. Lessons learned can be effective only in a mature organization that:
Has mature OPM and tailore methodology.

Has open communication environment.

Avoid culture of blame or scapegoats.
What do Lessons Learned cover?
- What went wrong? Listing all problems and issues that affected the project, and the reason behind them. Ensure that the conversation is targeted toward actions and results, not persons – no blame here!
- What went well? Lessons learned are not only about the negative aspect and issues of the project (e.g., documenting positive risks [opportunities] will benefit future similar projects).
- How can we improve? This is the goal of the lessons learned. Provide recommendations and solutions for each encountered issue.
Categorization and Codification
To have an effective lesson learned system, an organization should have a process to categorize each generated lessons learned. Categories can be:
Project management processes.

Project management knowledge areas (cost, schedule, quality, procurement...).

Team performance, team productivity...

Change management processes.

User acceptance testing...

Business analysis. - ETC...
To improve the benefit of lessons learned, codification is a must. Codification makes generation of the lessons learned more easily, as well retrieving them. An example of codification in construction phase of the project:
Assign a discipline code for civil, electrical, instrumentation, mechanical, telecom, welding...

Assign a suffix for discipline sub category (e.g., CC – Civil Concrete, CEW – Civil Earth Works...).
Implementation of Lessons Learned
Lessons Learned should be documented through the project life span. At least, they should be documented at:
Each stage gate.

Each phase end.

End of project.
Documenting LL can be simply by using an excel sheet. However, to get the most of benefits, LL should be digitalized in a database that is accessible to everyone with the right level of authority (read, write and modify).
Lessons learned should be treated as a deliverable
The PRiSM (PRoject integrating Sustainable Methods)

3

methodology mandates in the beginning of each phase, the review of lessons learned through "Review and Validate Plan" process, and at the end of phase through the "Conduct Phase-end Review" process.

The SUKAD Way CAMMP (Customizable and Adaptable Methodology for Managing Projects)

4

also lists a specific process "Document Lesson Learned" in the close process.
This is how mature organizations benefit from the lessons learned. It shall be incorporated through the methodology, and not left to the project managers' random choice.
Importance of Lessons Learned
The sustainable project management emphasizes on lessons learned and organization learning. The organizational learning is part of the GPM P5 standard social bottom line 2. Adherence achieves a number of sustainable project outcomes including:
Enhanced capabilities across functions.

Increased maturity from project to project.

Creating opportunities for creating industry standards and engaging with like-minded organizations in benchmarking activities.
References:
1- A Guide to the project Management Body of Knowledge (PMBOK guide, sixth edition). 2- The GPM P5 Standard for Sustainability in Project Management v1.5.1. 3- Sustainable Project Management: The GPM Reference Guide, 2nd edition 2018. 4- Project Management beyond Waterfall and Agile (Best Practices and Advances in Program Management).
---
Published at pmmagazine.net with the consent of Charlie Kafrouni