The Most Important Element for Project Success
Working on a learning topic with a master person in an adult age is applied especially in sports as well as in martial arts. In the epic movie "Star Wars", we see the same approach in Jedi training. The Jedi knight needs the guidance of a Grand Master.
There is one more area where the learning from a master is intensively used. It is the "Process Improvement Project Leader" training, such as Six Sigma Green & Black Belt, Shainin Journeyman or Lean Expert. (The meaning of these terms have been mentioned in my previous article.)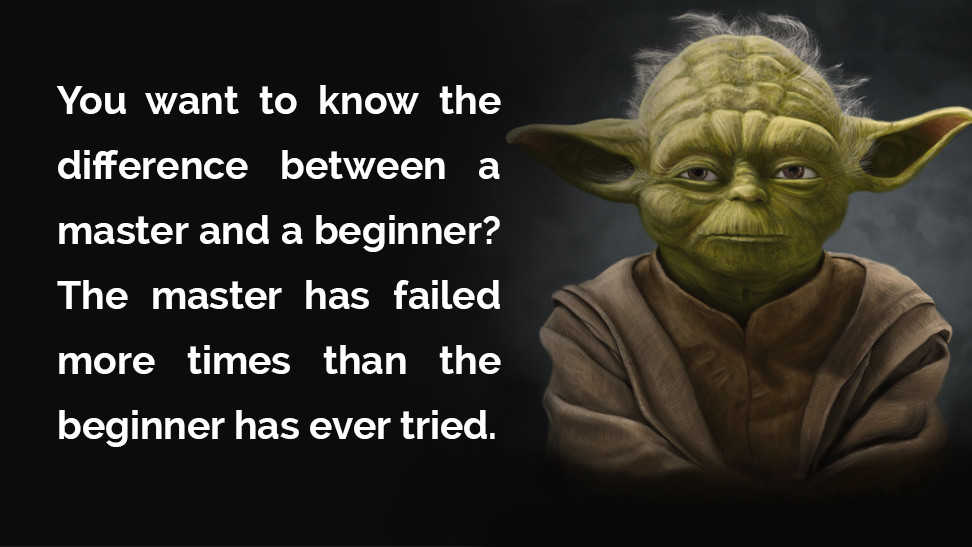 One can learn via different methods; in the classroom, by reading books, in a virtual class on-line or off-line, or using a blend of different methods. The effectiveness of all these methods depends on the learner and on the topic to be taught. In my opinion "learning by doing with the guidance of a master", has been very valuable and will be valid also in the future.
You might ask, "Why coaching someone who has already been trained?"
Training is essential for obtaining the required skills and knowledge. Participants usually understand the concepts taught in the course and have a "feeling" for the tools that can be used in process improvement, but it's very optimistic to assume that one could apply all the tools immediately to real life cases after being trained in the classroom. Particularly, questions like,
why and when to use what tools and
how to interpret the tool's results in detail in a project environment
are often beyond the scope of training.
Coaching makes sure that learning is applied in the real world. Training is usually done in groups using a variety of styles (e.g., lectures, classroom exercises, discussions, drills). Coaching, on the other hand, focuses on the individual needs. Additionally, coaching topics usually cover the review of the overall project progress, definition of the next steps, and how to best manage interpersonal relationships between the Project Leader, the Team, the Sponsor and other stakeholders. Other coaching issues might include how to remove barriers in the organization, such as lack of resources or conflicting priorities.
What is Coaching?
Problem Solving or Process Improvement, given its nature, is a difficult task for all of the stakeholders. If it was a simple problem, there would be no need for a deeper analysis about facts, for testing hypothesizes and for experiment design, etc.
A good coach needs to be agile in guiding the Project Leader on complex issues. One of the key principles a coach should follow is:
Do not tell the Project Leader what to do, instead enable learning by helping them to find the best way to solve problems themselves.
This sounds easier than it is, since many coaches would define their role more as a solution provider than a solution enabler. If you provide solutions, in short term it might be helpful for project leaders to get solutions immediately, in long term they will not become self-sufficient in solving challenging future problems.
Coaching is a form of development in which a person called a coach supports a learner in achieving a specific personal or professional goal by providing training and guidance. The learner is sometimes called a coachee.
Here are some definitions of coaching:
"Unlocking a person's potential to maximize their own performance. It is helping them to learn rather than teaching them" (Whitmore 2003)
"A collaborative, solution focused, result-orientated and systematic process in which the coach facilitates the enhancement of work performance, life experience, self-directed learning and personal growth of the coachee" (Grant 1999, basic definition also referred to by the Association for Coaching, 2005).
"A professional partnership between a qualified coach and an individual or team that support the achievement of extra-ordinary results, based on goals set by the individual or team "(ICF, 2005)
"The art of facilitating the performance, learning and development of another" (Downey, 2003)
Coaching can be proactive or reactive. Leaders coach generally in a reactive way, when a need arises. Proactive coaching is a better way of changing the behaviours of the learner in Problem Solving like in martial arts or sport.
Why do you need structured coaching for Project Leaders?
DMAIC, FACTUAL or LEAN learning curves involve new concepts, mind-sets, and approaches and requires to apply different tools in each of the phases. Progress of the project depends on the selection of right tools based on the problem type. The coach helps the Project Leader move through this process easily. The difference, coaching support would make regarding the success of an improvement project can be seen from the statistics given below table.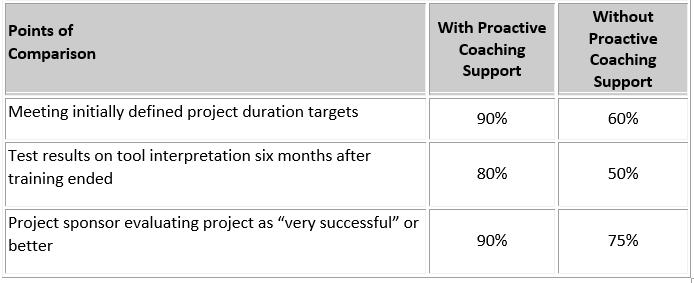 Source: Kimberly-Clark
Coaching makes sure that the first time Project Leader would not quit the improvement project in case of barriers and go the extra mile for the best possible solution.
Qualities of a Good Coach:
Coaching done well may be the most effective intervention designed for human performance.
Atul Gawande
We can see skills and behaviour of people on the surface, but for the underlying thoughts and values we have to dig deeper, under the waterline, which often is a dark spot of unawareness both for coach and coachee. The coaching process would be more effective, if the coach holds these beliefs:
All people are capable of development.
You can create change in a person, if they want to and are ready to.
What a person believes about their own potential is directly linked to their success.
What others believe about their potential can influence the level of their success.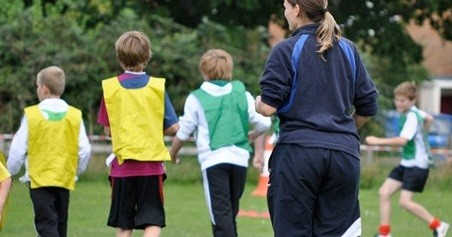 Additionally, good coaches are good listener, patient, supportive, interested, and able to challenge assumptions and actions as well as to give and receive feedback.
Coach-Belt Contracting as the Base
Coaching is a scheduled session and it is better if realistic expectations are set with the Project Leader at the beginning of each coaching process. This agreement, often called contracting, ensures that both parties know what is specifically happening between them. Contracting is important for building trust between the coach and the coachee.
Contracting defines a number of important issues:
Duration: Recommended are at least 1 or 1.5 hours for regular coaching sessions.
Sequence: Agreement on proactive regular sessions once per week, minimum bi-weekly.
Content of sessions: Balance between clarification of tools, progress update, and resolving interpersonal and organizational issues.
Sponsor involvement: At regular intervals, the project Sponsor should join a part of a coaching session.
Coach's accessibility outside of coaching sessions: That includes timely response on phone calls, emails, etc.
Meeting minutes: Discussions, findings and agreed next steps should be recorded and distributed to the project Sponsor and Six Sigma responsible persons. While the Belt is the owner of this document, it is recommended that the coach make sure that it is done.
The GROW Model for Coaching
The GROW model has been developed not only for the project coaching, but for coaching in general and it can be used to structure a coaching session. Let me explain the meaning of each step which is abbreviated as GROW.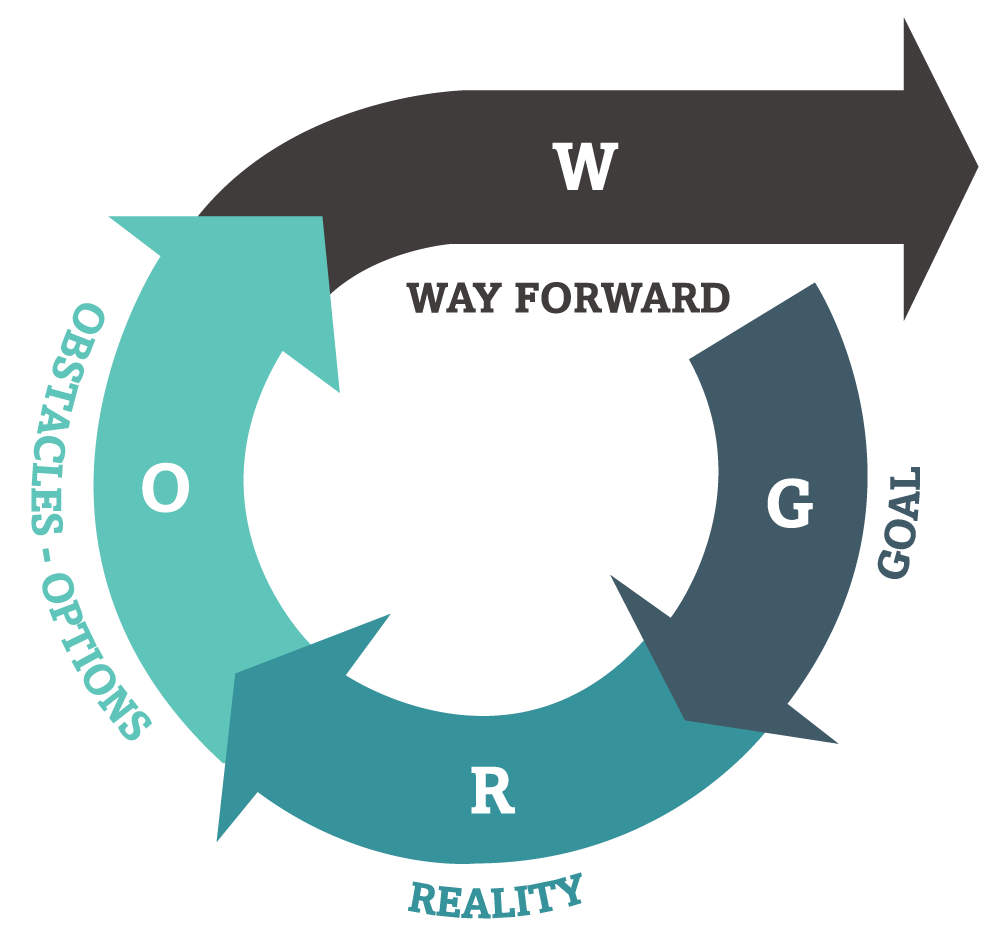 Goal:
In this section, the coach helps the coachee to define what the target is. The realism in terms of both the Belt's capabilities and the context of the goal should be validated. Make sure that objectives are SMART (specific, measurable, achievable, realistic and time-bound).
Reality:
Next, the coach tries to understand where at present the Belt is in relation to their goals or objectives. Be prepared to challenge and give feedback where necessary. The trick is not to tell them outright, where specifically they are, but to enable them to realize that for themselves.
Options:
Do not settle for the first option that comes into the coachee's head. Explore, explore, explore... Encourage the Project Leader to come up with a few options and then test each option by taking time to investigate the pros and cons of each. Then get the Belt to make a decision – their decision – as to which is best for them. Coaches have to take risks here and let the person try the option out that they believe is the best way forward.
Way forward:
The discussions and findings are now summarized while the goal, the steps necessary to achieve that goal and the timeline needed to complete each step are reinforced. This phase is called also "Will", because it is necessary that the Project Leader has fully bought into what they are going to do. The coach can ask, for example, on a scale of 1-to-10, how motivated the Project Leader is to carry out the necessary steps.
Using a structured approach ensures that all important aspects during a coaching meeting are considered.
There are some key questions, which could be asked to Belt, Journeyman or Lean Expert candidates as guidance. Or a coach might choose to follow a timeplan to keep the coaching sessions on track.
What are your thoughts about project coaching or coaching in general? Please feel free to share benefits you have experienced or observed via coaching.
---
Published at pmmagazine.net with the consent of Rüya Demirtaş
Source of the article: {Linkedin} on [2018-10-30]